Since March 28th, 2012 it has no longer been possible to buy a license for Urchin Web Analytics software. Google decided to close down the server log import software Urchin to focus all their energy on Google Analytics, the same service hosted on Google's servers.
We are proud to announce that we have successfully built a Free Software alternative to Urchin now available! Check it out at: Matomo (Piwik) Server Log Import.
You can now easily import web server (Apache/ Nginx/IIS) access logs into Matomo (Piwik). Matomo server log analytics is a full-featured Python script that lets you import a set of log files into a Matomo server. Some beta testers even said that the Matomo log import script is easier to use than Urchin (i.e. Matomo does not require any profile setup). Several web hosting companies who are using the script say that Matomo log analytics is also easier to manage than AWStats. It does not require any configuration and can be just be executed in a cron tab — or Windows scheduled task — to run on a daily basis.
Import Server Logs into Matomo (Piwik)
The script will let you import a set of log files into one website specifically, but the script can also automatically record the data to the website in Matomo (Piwik) based on the URL hostname in the log. If a hostname is not found in the list of websites in Matomo, the script can also automatically create the new websites. The script is optimized and can parse and import hundreds of log lines per second. The tracking requests are made from the Python script to the REST Matomo Tracking API. The script has many options to enable tracking of search bots, track static files (JS, CSS, Images, etc.), track HTTP errors and redirects, ignore specific user agents, etc.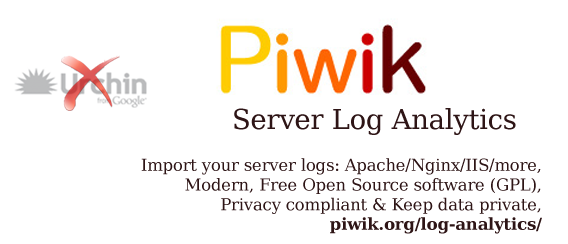 New to Matomo (Piwik) but Using Urchin or AWStats
If you are currently using Urchin, AWStats or Webalizer, and are new to Matomo: we recommend you install Matomo (Piwik) (it only takes 5 minutes!) and then use the Python script to import your logs. You will enjoy all Matomo reporting functionality and many other features.
We wish to warmly thank the French web hosting company AlwaysData for their great work on getting this project completed under the GPL License. We also thank all of our fantastic sponsors and all beta testers of the script for their reports and feedback.