Thanks to the development of Open Source & Free Software in the recent years, it has become wonderfully more accessible for everyone to build a website or manage an online store. There are dozens of softwares such as WordPress, Drupal, Mediawiki, Magento, osCommerce that have helped millions of individuals share their ideas or build a business online.
Piwik, the leading open web analytics platform, integrates well with more than 50 different CMS, ECommerce shops, Frameworks, Programming Languages!
Matomo modules are available for the following platforms… and more!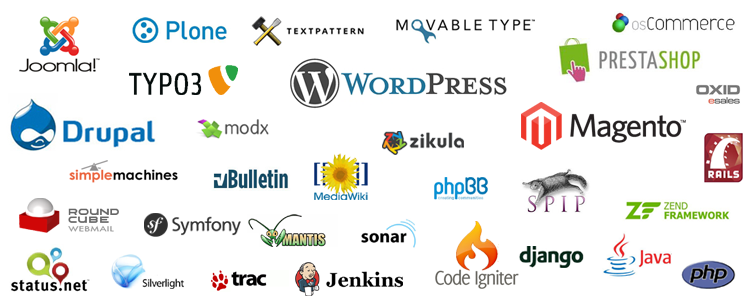 If your website uses an open source CMS or programming, there is most likely already a plugin or module for your tool to make it easier to integrate Matomo (Piwik). Often, these modules will automatically add the Matomo JS code in the footer of all your pages. Some plugins also display some key Matomo reports in the CMS admin screens. Some plugins allow to customise the Matomo JS code to be inserted in the pages.
Keeping the list up to date
We'd like to maintain the Matomo (Piwik) Integration page up to date so if you see any broken link, or if any plugin below is broken, please let us know.
Note: Third Party Plugins
Please note that these plugins, addons, modules, extensions linked to on this page are built by third party developers who are not in the Matomo (Piwik) team. The source code wasn't reviewed by the core team, nor did we try to use all of them ourselves… Please use with caution and Report any issue you may experience to the original developer.
Adding a listing on this page
If you are the author of a new extension or addon for a technology not listed on this page, please contact us with the plugin name, description, logo.
Other Websites Updates
Matomo store
Our Matomo (Piwik) T-Shirts store is going well, thank you to everyone who got a T-Shirt or sent us a donation recently. We are still accepting stickers designs if you are creative and wish to put Matomo related message on a sticker!
Recommendation for WordPress users
If you use WordPress CMS, and wish to use the Custom Types feature, we highly recommend the plugins WP-Types and Views. These are fantastic tools to easily create and manage custom types, custom taxonomies, which you can even translate with WPML the wordpress translation plugin. We use these plugins at Matomo (Piwik).org and our translated websites and we are really liking it (and code license is GPL!)
If you have feedback please let us know in the forums. Thanks for reading,
Happy Analytics!