Digital Analytics software
Matomo Analytics (formerly Piwik Analytics) is the leading open source digital analytics software, offering users around the world an opportunity to liberate their analytics. Most recently, they have introduced the Matomo Certified Professional certification exam which now allows users to become qualified in Matomo Analytics (formerly Piwik Analytics) software on an individual level to gain a deeper understanding of Matomo. In this blog post I will guide you through the topics that are covered during the exam and provide you with advice on taking the official Matomo Certified Professional exam.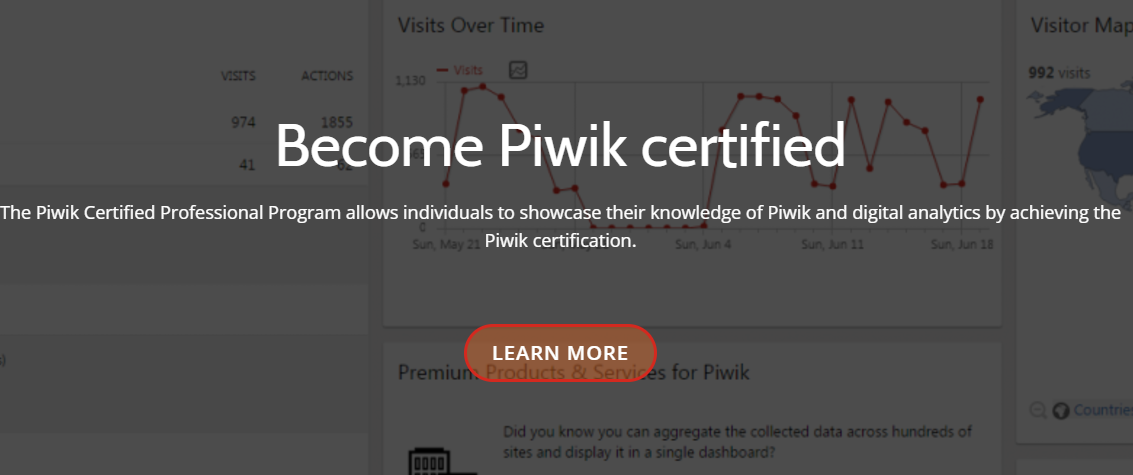 Matomo certification exam
Taking the exam will cost you a maximum investment of 60 minutes of your time, besides learning all materials of course. The exam consists of 55 multiple choice questions with four answers to choose from. The score needed to pass is 80% (44 questions answered correctly) and the cost is 50 USD total. An earned certificate is valid for 18 months, before these eighteen months are over a person should pass the exam again in order to retain the certified status.
Learning topics
The exam consists of two sections. The main section is focused on the Matomo Analytics (formerly Piwik Analytics) software itself while the second part relates to digital analytics in general. All topics and content covered about Matomo Analytics (formerly Piwik Analytics) is available through the official Matomo user guides. The second section tests your experience as a digital analyst, online marketer or any other function title in which you work with Matomo Analytics (formerly Piwik Analytics). In this case, the general digital analytics questions should be quite straightforward and easy to answer, and cover only a fraction of the total questions in the exam (around 10% with 5-7 general questions). An outline of all exam topics are listed below:
A Tour of Matomo

Track Goals and Measure Conversions

Event Tracking

Content Tracking

Ecommerce Analytics

Row Evolution – View and compare historical data

Segmentation – Compare segments of visitors

Visitors Maps – World, region, city

Real Time Visitor World Map

Real Time Analytics

The Visitor Profile

Site speed and Page speed

Site Search Tracking and Reporting


Transitions – Analyze the previous and following actions of your visitors for each page

Page Overlay

Custom Variables Analytics

Custom Dimensions

User ID

Annotating your data

Tracking Campaigns

URL Builder for Marketing Campaign Tracking
The best way to prepare for the exam is read the entire Matomo user guides. You should definitely read the "Analytics Features" section since most questions of the Matomo Certified Professional – Digital Analytics exam that will be asked come from these sections. Furthermore you should be able to find your way around in Matomo at a basic level which means you know what the reports mean and where to find certain information. In addition, some basic knowledge regarding the settings is useful too. The exam is definitely not a technical implementation exam so no coding knowledge or any other deeply technical knowledge regarding Matomo is required.
Finally, some general questions will be asked regarding digital analytics covering topics about KPI's and the role of the analyst within an organization. While Matomo provides some links to articles by Avinash Kaushik covering these topics, you will not be able to learn these topics just by reading. When you have some experience with digital analytics you should be able to answer these general digital analytics questions with common sense and (even basic) experience as a digital analyst, analytics consultant, online marketer or any other related job whereby you work with Matomo.
Taking the exam
With 55 questions to be answered in 60 minutes the key to passing the exam is to keep moving. You have about 1 minute and 5 seconds to answer each question. This means that you should focus on the easiest questions first and return later to the questions that are a bit more challenging to answer. Keep an eye on the timer that will be displayed in the exam window. When the time expires or you click 'Finish test' your exam will end and be automatically submitted for review. Remember to first check all questions and answers before you click on the 'Finish test' button. If you click too soon and you still haven't answered all questions, all unanswered questions will be marked as incorrect.
During the test, no hard copy or online materials may be referenced. As you can imagine, it is almost impossible to check if users reference these kind of materials. However, be aware of the penalty system that is in place during the test. When a user leaves from the active test screen to another screen (i.e. a different browser tab) the screen turns red and provides a warning count when the user returns to the test screen again. You will have three warnings, after this your test will be submitted and graded as false. Furthermore, keep in mind you will have to do the test in one go and cannot pause and come back another time.
Practice makes perfect
Below I have included some example questions that could be asked during the exam. These questions do not necessarily represent how Matomo will test you on these topics.
What is the default report date that is selected by Matomo?

Why would someone flatten a report in Matomo?

Why would a user especially use the Page Overlay report?

What are the three main Ecommerce interactions tracked with Matomo?

What is an example of an anonymized IP address in Matomo?
Passing the Matomo Certified Professional – Digital Analytics exam
Directly after submitting the exam you will receive a notification telling you whether or not you have passed the exam. If you pass, you will be able to download your personal certification right away. A report of your exam performance will also be available. This report lists the amount of correct answers and total questions by topic. The report with your exam performance is also available if you did not pass the exam. The certificate is valid for 18 months from the date of successful completion.
Sometimes the difference between passing and failing can be a matter of how you interpret some of Matomo's questions. There are several tricky questions included, so be sure to pay attention to detail on every question. If you fail, you may take the exam again. You will have to pay the 50 USD fee for each try, so do your best to pass it the first time.
We wish you the best of luck and happy analytics!